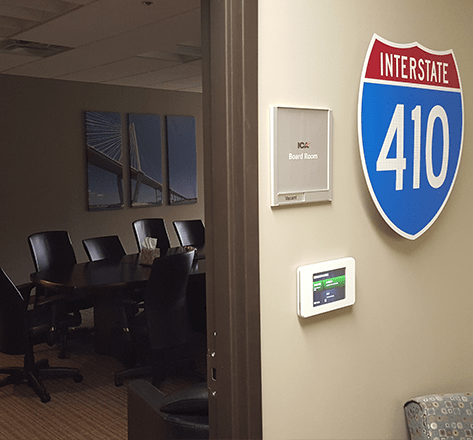 Hassle-Free Room Scheduling
Many businesses run into room hijacking or lack of availability due to lacking an efficient digital signage system.
Room booking tablets are designed to simplify the process by providing insightful methods of accessing which rooms are available, what materials may be needed, and a vast array of more helpful information. We walk our clients through the process of choosing what hardware tablets fit their goals, recommending supported software and hardware agnostic products to ensure an optimal experience.
If you would like additional information on the hardware needed for your company, click the button below to contact us now.
Need a guide on your digital signage journey?
Our site is designed to help! Click here to find helpful resources
Key Tablet Features

Available Rooms
See a list of available and in-use rooms including those scheduled for the day with in-depth lists, calendar displays, and LED lighting notifications.
Book Meetings
With just a few taps on a screen, book scheduled meetings on the spot without worrying about overlapping appointments and room hijacking.

Facility Control
Completely control what rooms are booked, how your employees utilize your facility, and more with advanced usage statistics that inform you of client and employee behaviors.

Mobile View
Gain access to important information regarding when a room is booked/free, the description of an event, and who the host of the meeting is, all on your mobile phone.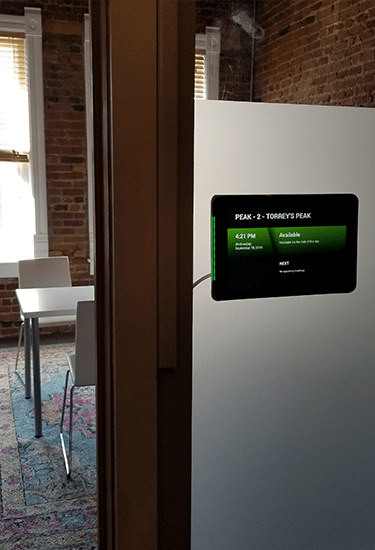 Supported Brands

The Crestron tablet product lines are designed for professional room scheduling applications. Their tablets automatically work with multiple types of room scheduling services and utilize a web-based system with cloud-based configuration, allowing for easy and simple access to all your content, data, and more.

IAdea's smart tablets are a product perfect for meeting room signage when design matters. Equipped with full touch capabilities, Power-over-Ethernet, and a range of resolution options, the IAdea tablets provide a clean and sophisticated look with plenty of accessory options to choose from.

Widely used for shelf advertisement and wayfinding, Philips tablet displays are ideal for situations where space is limited. Power-over-Ethernet enables flexible placement while a sleek, intuitive design makes form factor an issue you never have to worry about.





Clients Using Room Booking Tablets
Here are a few of the customers who use our room booking tablet solutions in their businesses. Notice the very different types of businesses that benefit from this technology - all of us have meetings and can benefit from more efficient meeting booking!
Don't be the coworker who has to enforce the Outlook Calendar anymore.
Leave it up to the meeting room tablet!
Services Provided by Creating Margin